Mini Gantry Crane with Electric Chain Hoist 1000kg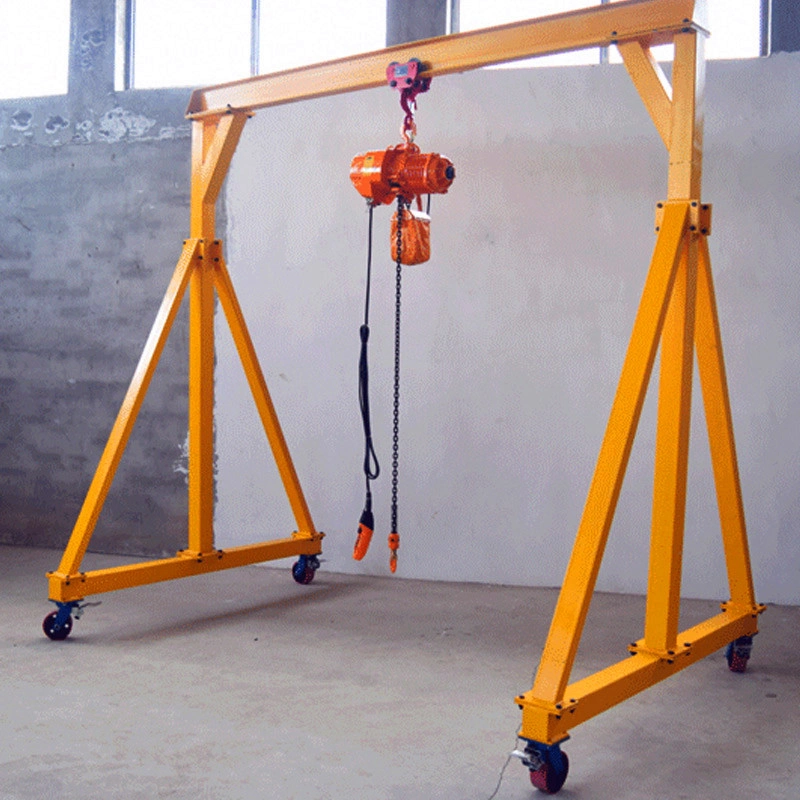 1.A-frame Mobile Gantry Crane can be omni-directional mobile small light lifting equipment.
The girder of A-frame Mobile Gantry Cranegirder is made from I beam,which is bearing the load and also as the traveling
track of hoist.The A-frame Mobile Gantry Crane is equipped with a universal wheel which can move omni-directional on flat ground.The main
girder and leg are connected through flange plate with high strength bolt connection, can be disassembled or assembled quickly,
or moved to another working site.

Normally, the A-frame Mobile gantry crane lifting capacity: 0.25ton~20ton,lifting height:3m~10m or customized ,span:5~10m,
Working temperature : -20-40 degrees,Working class: A2~A3.
It can be fitted with manual or electric wire rope hoist or electric Chain Hoist.This gantry crane offers flexibility to the operator for
shifting parts from one workstation to another without having to wait for the girder crane to be available.
2.Component of A-frame Mobile Gantry Crane Supplier With Competitive Price :
-Gantry frame (main beam, leg, ground beam)
-Hoist trolley
-Crane travel mechanism
-Ground control/Remote control
-Electrics
Technical Parameters:
Loading capacity
0.25 ~ 6.5t
Lifting height
3 ~ 10 m or customized
Lifting speed

Single speed: 3~ 8 m/min; or customized

Variable frequency speed: 1 ~ 20 m/min; or customized

Span
3~10 m
Lifting mechanism
Hoist trolley
Working class
A2 ~ A3
Working temperature
-20 ~ 40 ºC
Power supply
AC-3Phase-220//230380/400/415/440V-50/60Hz
Control voltage
DC-24 / 36V
Motor protection class
IP54 IP55 IP65
Control way
Ground handle control(Push button),wireless remote control
Safety device
Buffer, current overload protection,overload device,power failure protection
Application area
Factory,workshop,warehouse,power station,logistic,etc.
Painting color
Yellow,Red or Customized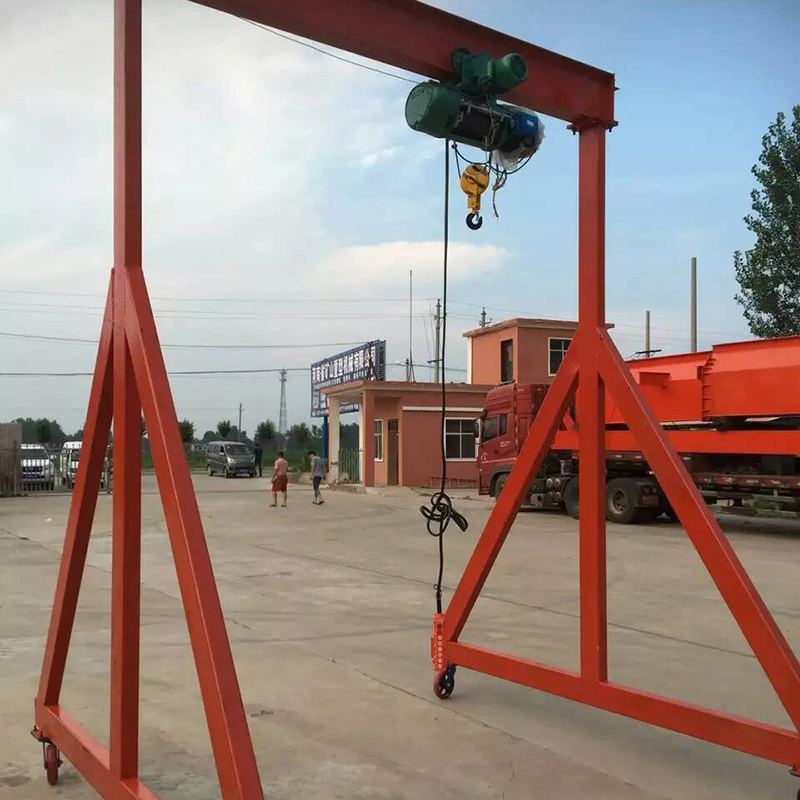 Hand Push Flexible Wheels Running Type Gantry Frame(rope hoist)
Customized made gantry crane accepted according to client
'
s actual using conditions.
Safety Devices for Gantry crane:
To guarantee the normal operation of crane and avoid the personal casualty and mechanical damage, the safety device we provide are not only the electric protective devices or alarm bell but also other equipments as following:
1.Overload Limit Switch
2. Rubber Buffers
3.Electric Protective Devices
4.Emergency Stop System
5.Voltage Lower Protection Function
6. Current Overload Protection System
7. Rail Anchoring
8.Lifting Height Limit Device



Installation for customers: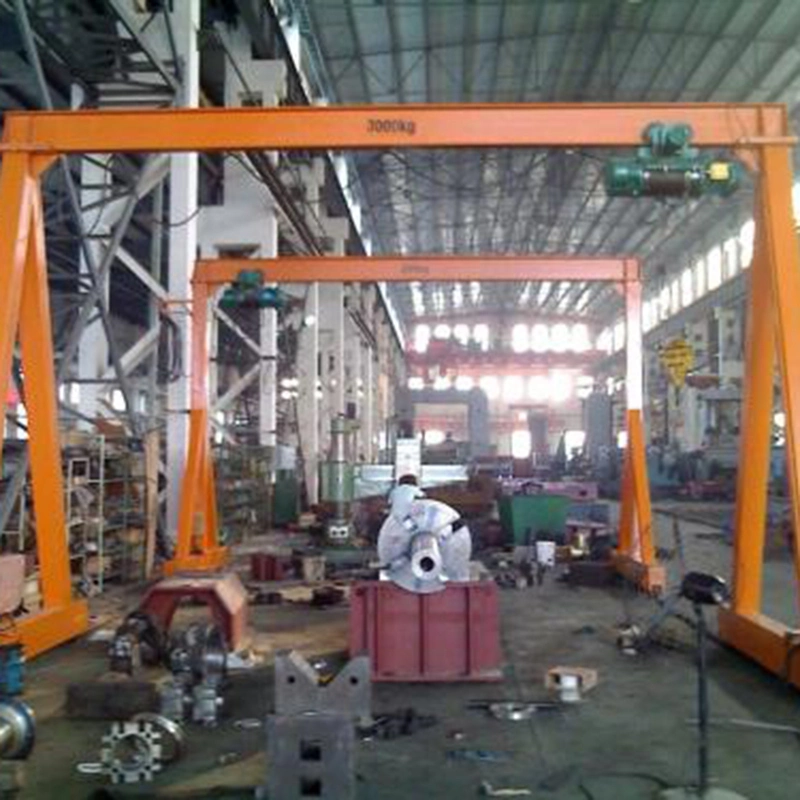 Rail Running Type Gantry Frame (chain hoist)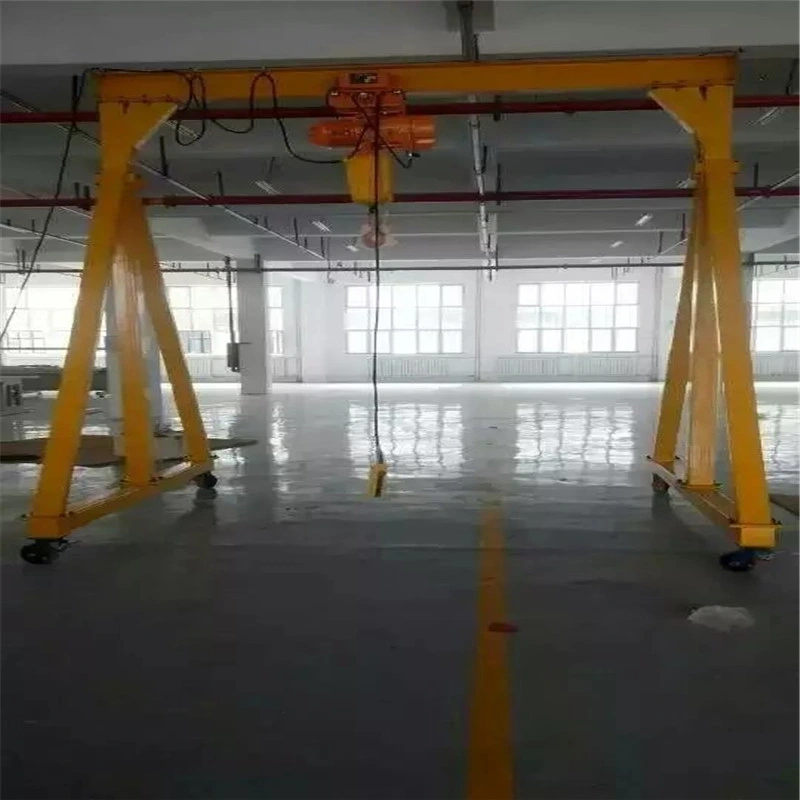 Gantry Frame with Flexible Wheels (chain hoist)





FAQ

Q1. Can the cranes be customized?
Yes,every customer's working condition is different, all of our products can be customized depend on customers' requirements. Please give us the information as clear as you can, so we can give our best design to suit for your demands.
Q2. How many operation methods for my selections?
We provide pendent controller with push button control type, remote control type or cabin control type.Please tell us what kind of operation way you need.
Q3. I have low headroom in my workshop, is it possible to install a crane in it?
We have special products for low headroom workshop, our engineer can give the best design according to your dimensions.
Q4. Do you supply lift tools?
Yes, we can provide any kind of lifting tools such as hook, electromagnetic, grab bucket etc...
Q5: In order to offer the most suitable design solution for you, it will be great helpful if you can offer us the following information to us:
1. Lifting capacity.

2. Span length.(rail center to rail center)

3. Lifting height.(hook center to ground)

4. Have you installed the rails? Do you need us to supply the rails? How long is it? 5. Power supply: Voltage.

6. Working condition: what kind of material to lift? temperature?

7. It would be much better if it is possible for you to offer the drawing photo of your workshop.