ELK 1 Ton Electric Chain Hoist Trolley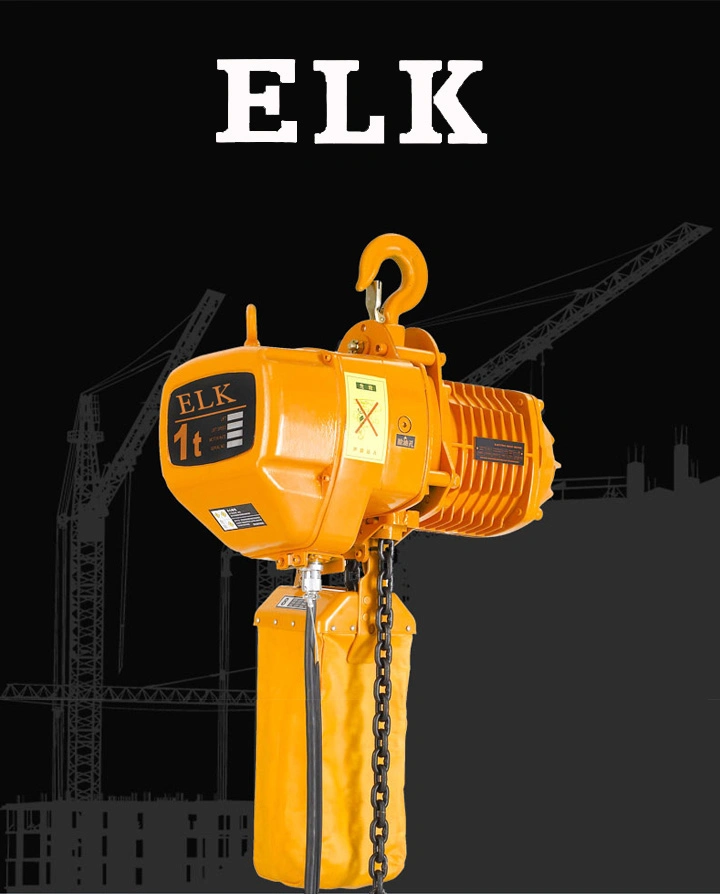 ELK Advantages
ELK 1 ton electric chain hoist trolley has light aluminumalloy shell, light but hard. This 1 ton electric chain hoist's cooling fin is specially designed to ensure quick heat dissipation with the rate up to 40%.

This 1 ton electric chain crane hoist has magnetic braking device, it generate magnetic force to support the braking .

Our ELK single girder electric chain crane hoist trolley has the Japan FEC80 heat-treated steel alloy chain.

Waterproof push button is applied. It's light and durable.
ELK 1 Ton crane electric chain hoist has three types of installation
1.Fix type
Fix type
1 ton electric chain crane hoist
can fix in postion,also can be used with electric trolley and manual trolley.

2.Manual trolley type
manual trolley type hoist can be fixed in I-beam and H-beam,trolley can be moved by hand,suitable for small tonnage cargo handling.

3.Electric trolley type
1 ton electric chain crane hoist
with electric trolley is suitable for 0.3T - 30T cargo lifting, electric trolley can help hoist move steady and smoothly.

Those three types of
1 ton electric chain crane hoist
suitable for a variety of working conditions, including factories, workshops, outdoor, warehouses, etc.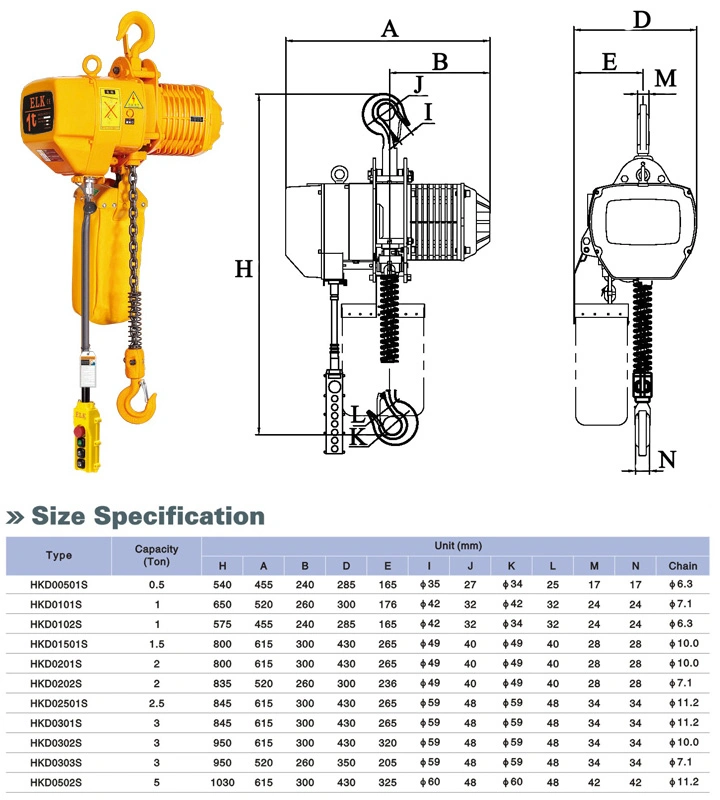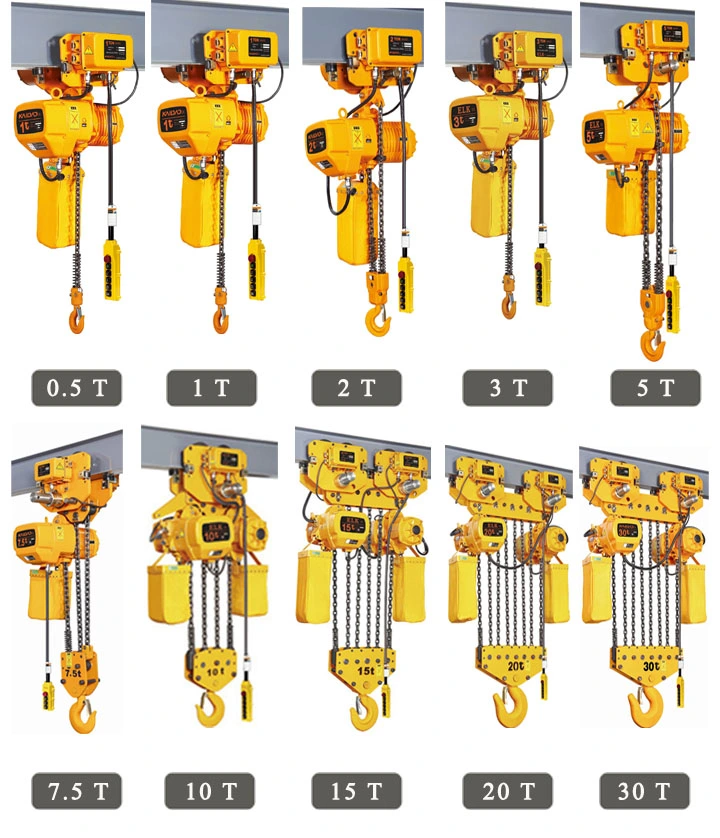 Specifications:
1 ton electric chain crane hoist

motor partial outer cover

High strength aluminum shell through compression casting formation.




Features: Solid and light, Fast release heat, Continuous use, Enclosed structure. Can be used in the chemical plants, electroplating factories, and other places.

Side magnetic braking device

This masterly structure ensure the hoist

absolutly

saf

e

ty when the power off. And ensures it is safe when has excess load. Also it combine to the motor braking as the double brake system to strengthen security and durability.

Crane Hoist Gear

The gear made of alloy steel and through the heat treatment




Features:reprocessing makes it high precision.

Antiphase protector

When power-supply wiring mistake, the control circuit is unable to move to protect motor

from being b

u

rned.

Hooks

They are made by hot forging and heat treatment.




Advantages:meets the demands on strength a

n

d hardness,durable and strong,not easy to break

and wear.360 degrees rotation and safety ensure the operation safety.

1 ton Kito electric chain hoist

chain

High grade :It is made of Japanese FEC80 ultra strong heat treatment alloy steel.




Standard grade:customized Chinese G80 ultra strong heat treatment alloy steel chain.




Adva

n

tages: It is safely approximately when used in the rain water, the sea water, under the

chemical and other bad conditions.

Emergency stop switch

Feature:stop th

e

re hoist in emergency. If pushed,the power supply will be cut off and button

locked automatically.

ISO

M4 /FEM: 1AM(M5 customized available)




Insulation grade: F

Protection class

ho

is

t :IP54,or IP 55;push button:IP65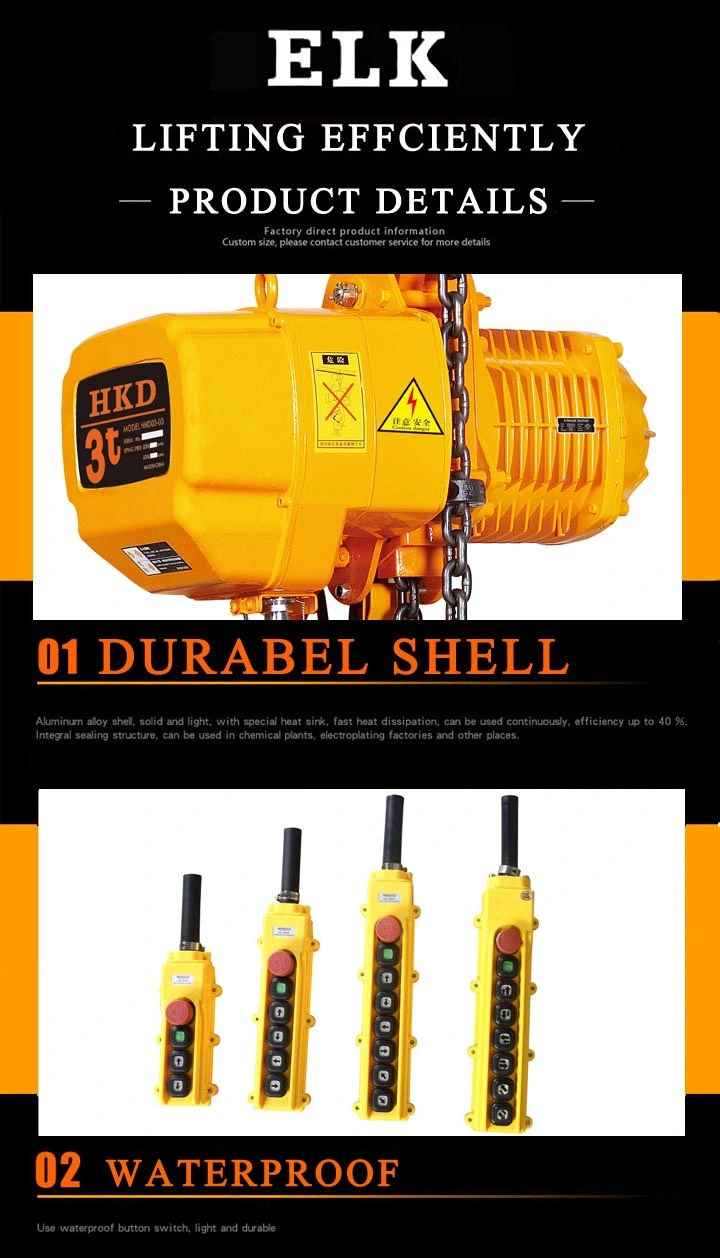 Reason To Choose ELK Crane Hoist
ELK 1 ton electric chain crane hoist has CE and ISO certificates, stable quality and comprehensive after-sales service, have been highly praised in the market for many years, and have withstood the test of consumers.

No matter now or in the future, ELK crane hoist will strive to improve product quality and service, to serve the needs of customers, provide better experience for customers and ensure win-win for both sides.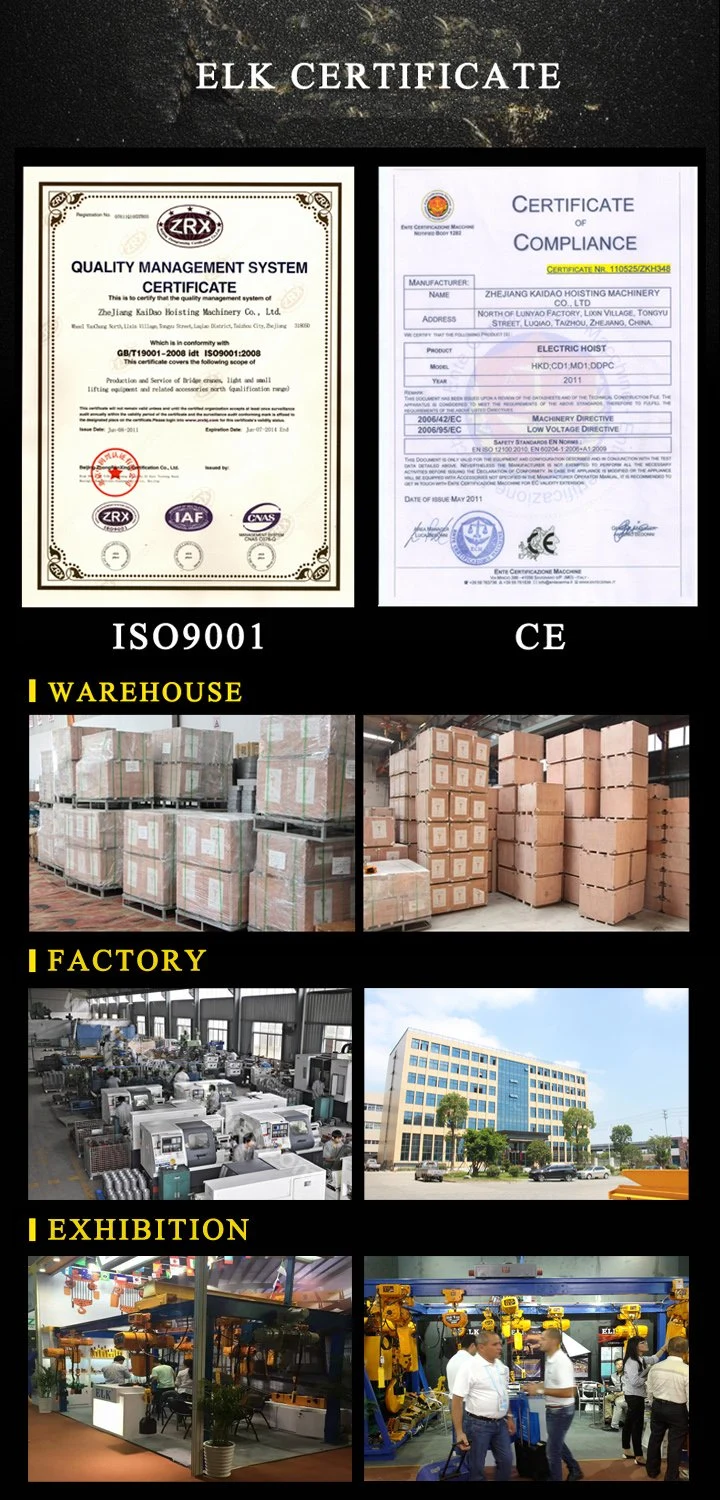 FAQ
1.Q:what's your warranty?
A:This

1 ton electric chain hoist

trolley

offer two year's warranty.

2.Q:Can the product be customized?
A:Yes, We supply crane electric chain hoist trolley according to your demand.

3.Q:Where is your factory?
A:Taizhou city,Zhejiang province,and welcome to visit our factory.