Lever Chain Hoist and Manual Chain Pulley Hoist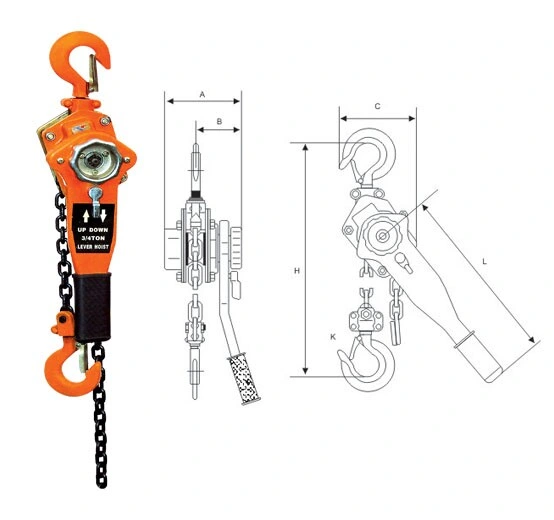 1. Introduction of manual lever hoist
Lever hoist is a hand operated lifting and pulling appliance. Lever hoist is portable and versatile. It is exceptionally convenient for working in narrow places, outdoor aloft work and pulling from different angles.
2. Features
1) Capacity from 0.25T to 6T, Minimum headroom required and very versatile in operation
2) Automatic double-pawl braking system
3) Chain guides provide smooth chain operation
4) Roller bearing supported load sheaves for avoiding abrasion
5) G80 Chain are made of special alloy steel that is exclusively
6) Drop forged kooks to ensure superior quallity and safety
7) The lever hoist static test is 4 times of capacity, and running test is 1.5 times of capacit one by one
8) The lever block is of high efficiency, fast lifting and light hand pull.
9) Surface finishing: Automotive painting.
Parameters of VA lever chain hoist

Model


0.75Ton


1.5Ton


3Ton


6Ton


Capacity t


0.75


1.5


3


6


Standard Lift m


1.5


1.5


1.5


1.5


Running test load t


9.2


18.4


36.8


73.5


Effort required to lift max load N


148


216


336


345


Load lift diameter mm


6.3


7.1


9


9


Net weight kg


6.6


11.65


21.1


23.7


Dimensions mm


A


155


170


198


198


B


128


147


182


230


C


310


350


470


590


D


240


365


365


365


G


28


36


47


49