Characteristics
1. H-LIFT lever hoist is a universal, manual hoist for lifting, tensioning and lashing in any direction.
2. The ratchet lever hoist features compact design and robust, deep drawn, stamped steel construction.
3. High quality materials ensure light weight without infringing reliability.
4. Low own weight, small mounting sizes and small lever force at full load.
5. Asbestos free brake, holding load at any desired height.
6. Top & bottom hooks are fitted with safety latches as standard.
7. The load chain can be pulled freely and easily through the hoist in both directions to attach the load or to tension the chain. For safety reason, free chains can not be done when the hoist is under load.
8. Short hand lever with rubber grip.
9. Hand lever operates with little effort due to optimal gear ratio.
10. Drop forged steel suspension & load hooks are heat treated and fracture resistant. In case of dangrous overloading or abuse, the hook does not fracture but will slowly yield.
11. The hoist is fitted with high grade alloy load chain.
12. Complies with EC Council Directive 2006/42/EC Machinery, ASME B30.16, AS 1418.2.
13. Overload protection device available upon request.
14. Sealed bearing available upon request.
Remark:
Hoists with the lift in other length are also available.
Cautions
-Do not exceed Working Load Limit.
-Keep the load chain lubricated at all times.
-Before operating, inspect the load chain for damages.
-Before operating, inspect the top and bottom hooks for signs of deformations and check that the safety latches are attached.
Model
LHA075
LHA150
LHA300
LHA600
LHA900
Capacit t
0.75
1.5
3
6
9
Standard Lift m
1.5
1.5
1.5
1.5
1.5
Proof Load kN
11.0
22.1
44.1
88.2
132.3
Effort Required to Lift Rated Load N
140
240
320
340
360
No. of Falls of Load Chain
1
2
3
Load Chain mm
6×18
8×24
10×30
Dimensions(MM)
A
148
176
195
195
195
B
88
102
109
109
109
C
135
162
211
254
319
D
37
45
50
64
85
H
320
380
480
620
700
L
290
420
420
420
420
K
26
32.5
38
48
50
Net Weight kg
7.7
11.8
21
32
47
Extra Weight per Metre of Extra Lift kg
0.8
1.4
2.2
4.3
6.5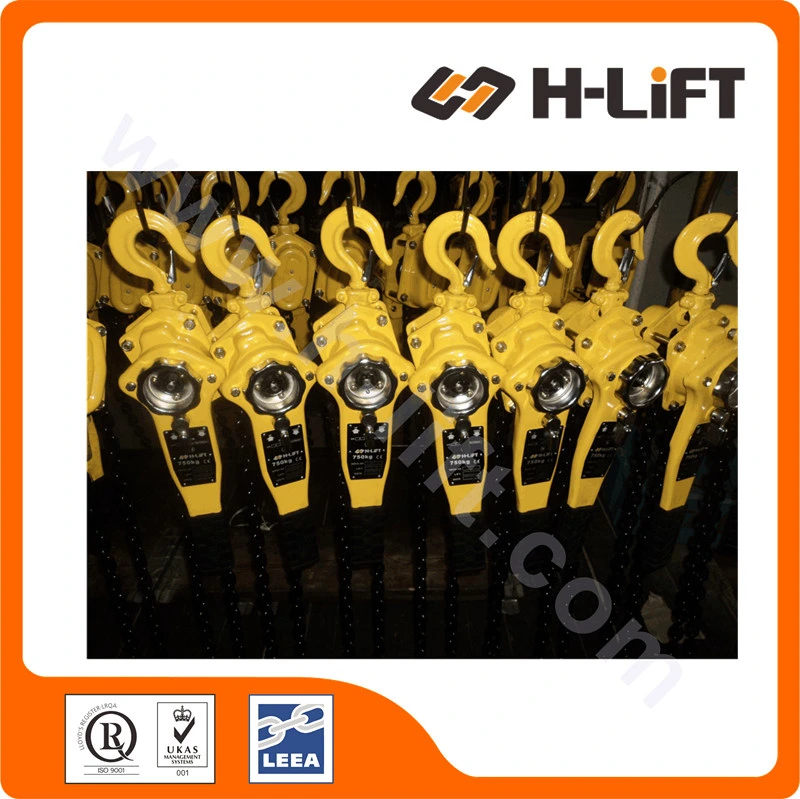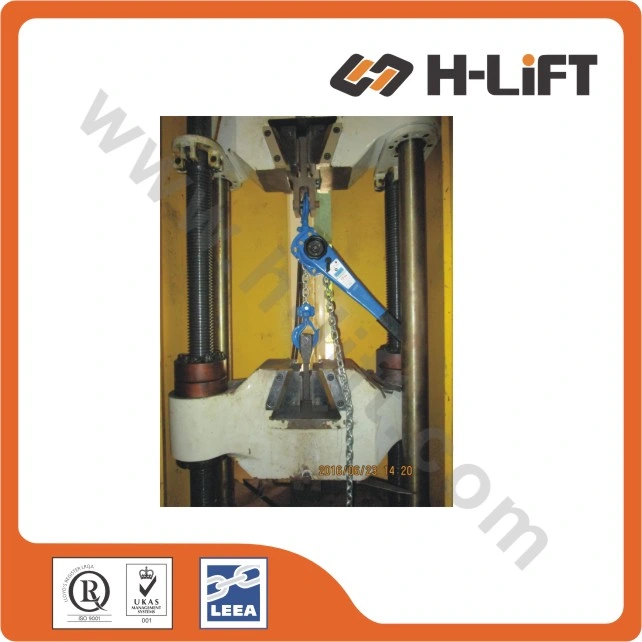 ALWAYS:
Store and handle lever hoists correctly.
Inspect lever hoists and accessories before use and before placing into storage.
Ensure any support fits freely into the seat of the hook and does not exert a side thrust on the point.
Check the operation of the brake.
Check that the bottom hook will reach its lowest point without running the chain against the stop.
Adopt safe slinging practices and follow the instructions for the safe use of the equipment used.
NEVER:
Expose lever hoists to chemicals, particularly acids, without consulting the supplier.
Replace the load chain with a longer one without consulting the supplier.
Extend the lever or use undue effort to force the lever hoist to operate.
Throw, drop or drag a lever hoist.
Allow oil or grease to come into contact with the brake.
Expose a lever hoist directly to the elements, water spray, steam etc without consulting the supplier.
Selecting the Correct Lever Hoist
Lever hoists are available in a range of capacities with either link chain or roller chain. Select the lever hoist to be used and
plan the lift taking the following into account:
Type of chain - link or roller.
Capacity and range of lift.
Lever hoists are designed for use at any attitude and may be used both for lifting and pulling applications.
Consult the supplier if the lever hoist is to be used in areas of high risk, exposed to the elements, water, steam etc, with
hazardous substances, eg acids or chemicals, or subjected to extremes of temperature.
Storing and Handling Lever Hoists
Never return damaged lever hoists to storage. They should be dry, clean and protected from corrosion.
Store lever hoists hung from the suspension hook with the chains raised clear of the ground.
Lever hoists should not be dropped, thrown or dragged across the floor.
Never galvanise or subject the chain, or other load bearing parts, to any other plating process without the express approval
of the supplier.
Installing and Commissioning
Follow any specific installation instructions issued by the supplier and the general requirements given overleaf. Try the
lever hoist to ensure that it operates correctly and that the brake is effective. Ensure the chain is not twisted, it must move freely.
The bottom hook must reach the lowest required position without the chain running out to the end stop.
Using Lever Hoists Safely
Do not attempt lifting operations unless you understand the use of the equipment and the slinging procedures.
Do not use defective lever hoists or accessories.
Check the slinging arrangement ensuring that the lever hoist is safely rigged and that chains are not twisted. Do not use the
load chain as a sling.
Check the load is free to move before commencing and that the landing area has been prepared.
Raise the load just clear, then halt the lift to check the integrity of the lever hoist, slinging method etc.
Do not extend the operating lever,eg with a tube, to force the hoist to operate.
Do not allow loads to swing out of control.
Keep fingers, toes etc clear when lowering loads.
In-service Inspection and Maintenance
Follow any specific maintenance instructions issued by the supplier but in particular keep load chains lubricated and free of
debris. Check the operation of the brake. Brakes must be kept free of oil, grease etc. Never replace the load chain with a
longer one without consulting the supplier. Regularly inspect the lever hoist and, in the event of the following defects, refer the hoist to a Competent Person for thorough examination: wear; damage to hooks and fittings; damage or distortion to slack end stop; chains worn, bent, notched, stretched, cracked, corroded, do not hang freely, twisted or jump; load slips or will not lift; damaged hoist casing; bent or cracked operating lever; illegible markings.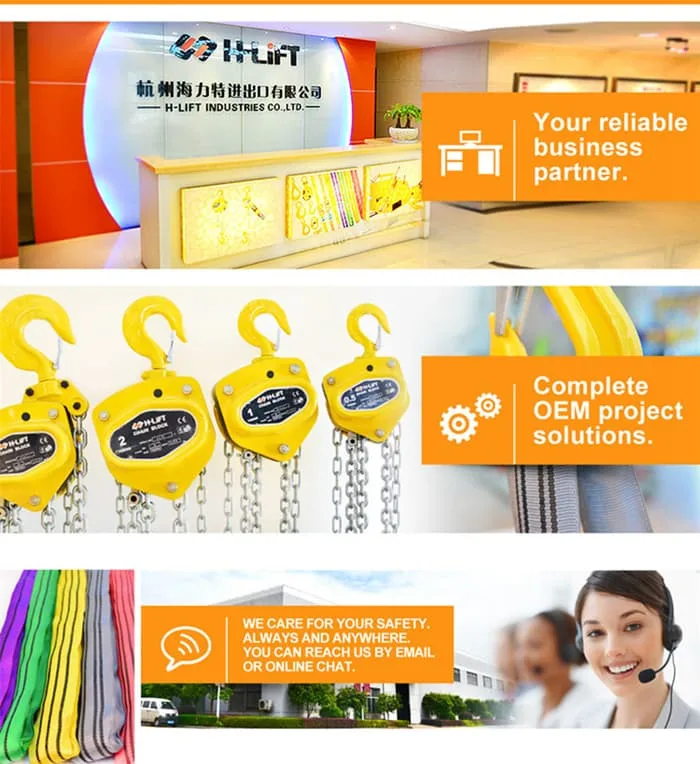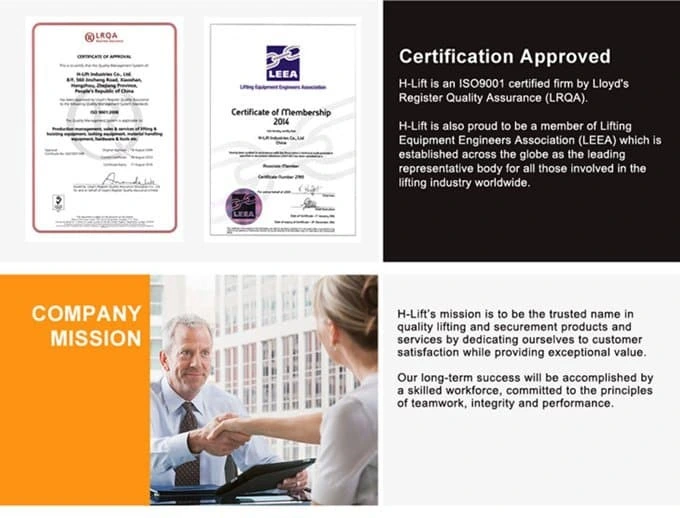 Frequently Asked Questions
Q1. How often should lifting equipments be subject to thorough examantions?
Thorough examination of lifting equipment must take place every 12 months - or every 6 months if the equipment is used to lift people. Any accessories used in lifting should also be inspected every 6 months. These are the minimum requirements, where there is no formal 'examination scheme' drawn up by a competent person.
Q2. What is a competent person ?
A competent person is someone who has appropriate practical and theoretical knowledge and experience of the equipment for which they act as 'competent person'. This knowledge and experience can help them detect defects / weaknesses and assess whether they will affect the continued safe use of the equipment.
Q3. Does new lifting equipment have to be thoroughly examined before use ?
You must have lifting equipment examined in the following circumstances:
Before using it for the first time - unless the equipment has an EC Declaration of Conformity which is less than one year old and the lifting equipment was not assembled on site. If it was assembled on site, it must be examined by a competent person to confirm that the assembly was correct and safe.
After assembly, and before use at each location - for all lifting equipment that requires assembly or installation before use (eg tower crane) - to ensure it has been installed correctly and is safe for use.