Have a series of saft working load from 0.25 ton to 6 ton.
various load chains if you need.
This lever block is very efficient and handy material
handing equipment of all-purpose. sepcially designed for streching, holding and pulling a any angles, both horizontal and oblique in any locations.
Having a series of safe working load from 0.25 ton 6 ton, This lever block is widely used in all industrial field, such as tying heavy loads for transportation industry.
stretching steel frames for the steel construction, fiting works of the oil and shipping industries, plumbing, machinery mover, utility, civil engineering and large-scale plants, s this is a lever block just for everyone's needs.
Rugged steel body construtioin
Light weight, compact and portable
Short 360 rotation handle and low handle effort
Hook opening before chain break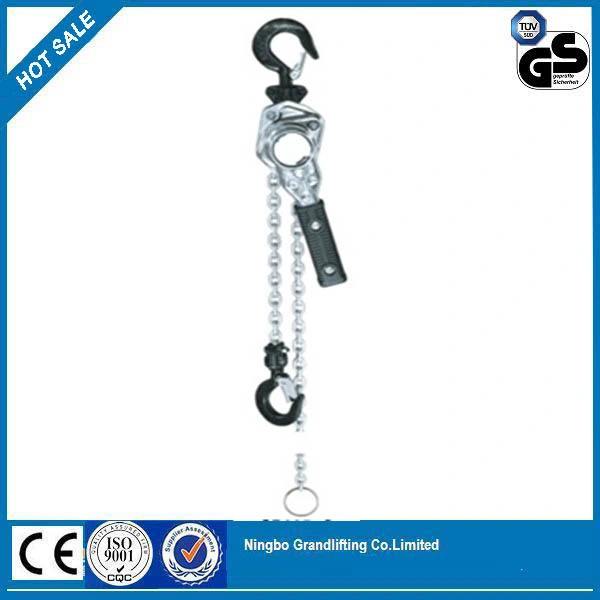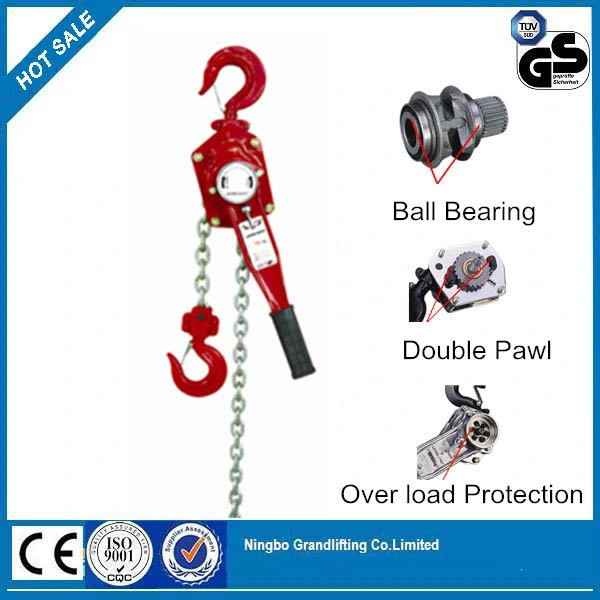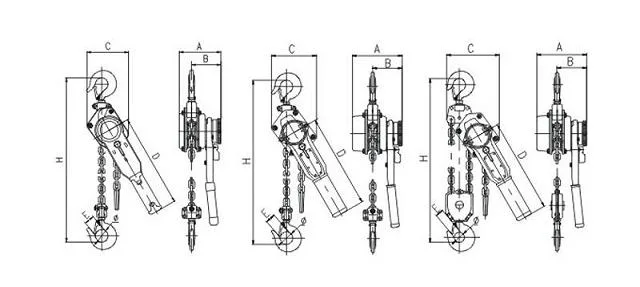 Item No.
ZHL-A-0.25T
ZHL-A-0.5T
ZHL-A-0.75T
ZHL-A-1T
ZHL-A-1.5T
ZHL-A-2T
ZHL-A-3T
ZHL-A-6T
ZHL-A-9T
Capacity(kg)
250
500
750
1000
1500
2000
3000
6000
9000
Standard lift(m)
1.5
1.5
1.5
1.5
1.5
1.5
1.5
1.5
1.5
Test Load(kg)
375
750
1125
1500
2250
3000
4500
9000
13500
No.of load chain falls
1
1
1
1
1
1
1
2
3
Load Chain Dia.
mm
4*12
5*15
6*18
6*18
7.1*21
8*24
10*30
10*30
10*30
Min.distance between hooks:Hmm
245
300
330
365
400
445
520
640
830
Length of lever handle:D mm
158
253
278
278
378
378
388
388
388
Effort required to lift Max. load(N)
282
248
265
270
295
315
335
370
420
Dimension(mm)
A(mm)
92
143
148
153
173
181
200
200
200
B(mm)
71
86
87
90
99
105
112
112
112
C(mm)
70
118
132
140
145
152
199
230
338
φ(mm)
31
31.5
35.5
37.5
42.5
45
50
53
67
E(mm)
20
24
27
29
33.5
36
40
42.5
53
Net weight(kg)
2.3
5.5
6.9
7.9
10.9
14.4
20.7
28.1
48.9